"A family tradition since 1930"
---
In the heart of the Eastern Pennsylvania wilderness, there's an exciting escape for RVers, campers, and hikers of all ages. Blue Rocks Family Campground occupies over 100 acres of beautiful forest divided by mountain streams and is surrounded by miles of hiking trails that offer incredible views of the Pennsylvania countryside. Topped off with our breathtaking Blue Rocks boulder field that gives our camp its name, Blue Rocks Family Campground is truly the definition of an amazing outdoor Pennsylvania experience. We can't wait to see ya!
Amenities
Camp Store
Free Wi-Fi
LP Gas
Recreation Hall
Golf Cart Rentals
Laundromat
Pets Allowed - Check for Restrictions
Online Reservations
Firewood For Sale
Dining - Snack Bar
On-Site Fun
Swimming Pool
Boulder Field
Fishing Pond
Playgrounds
Game Room
Fire Truck Rides
Basketball Courts
Horseshoes
Volleyball for all
Awesome Hiking Trails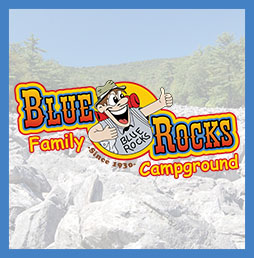 "For us, it's just about making memories. We've been here 16 years and we can tell you something special about every season we've been here. When we come here, we're a family… not just our immediate family, but with the whole campground. At Blue Rocks, you are going to see right away that this is a family-owned, family-run, family atmosphere campground."

— Mayor Joe

"I love camping here because of the proximity to the trails leading up to the Pinnacle Summit. You can't beat being able to hike up to a great view like that. The bathrooms are clean, the staff is really friendly and helpful and they worked with us to make sure we got the type of site we wanted even though it was a busy weekend. We'll definitely be back here next summer though - thanks for a great time!"

— Jessica F.

"This was my family's first family car camping weekend. I found Blue Rocks to be an excellent camp ground. We rented a basic tent space; no electric no water. The spot was spacious, clean and private. We enjoyed the swimming pool and a good long hike. Our nights were peaceful and quiet. The bang for the buck was there in spades."

— Stanton T.

"We loved this place because it's the way a campground should be: dark at night, quiet, wooded, and the sites have plenty of room in between! In the tent section, most sites seemed to be secretly tucked away, which is awesome! Staff was great, and helped choose a private site for us … We can't wait to return to Blue Rocks Campground!"

— Rebecca L.

"This place is a true gem. It is very secluded and quiet with great hiking trails. We played bingo on Friday night and it was really a blast. There are a lot of seasonal campers, and they are very friendly and accommodating."

— Robert F.